I was lucky enough to attend the second #LearningFirst conference on Thursday 22nd September 2016 and, as with the first, I returned inspired and keen to consolidate all I had heard. It also seemed plain to me that when something is right, people just know it; it makes them nod, clap, cheer and celebrate, especially when it's been a long time coming.
Here's a synopsis of the main themes and some of the points made. Please note that this is an interpretation. I can't claim to know what's in the mind of these skillful people; I can only interpret what they say. In short, this is what I think they meant…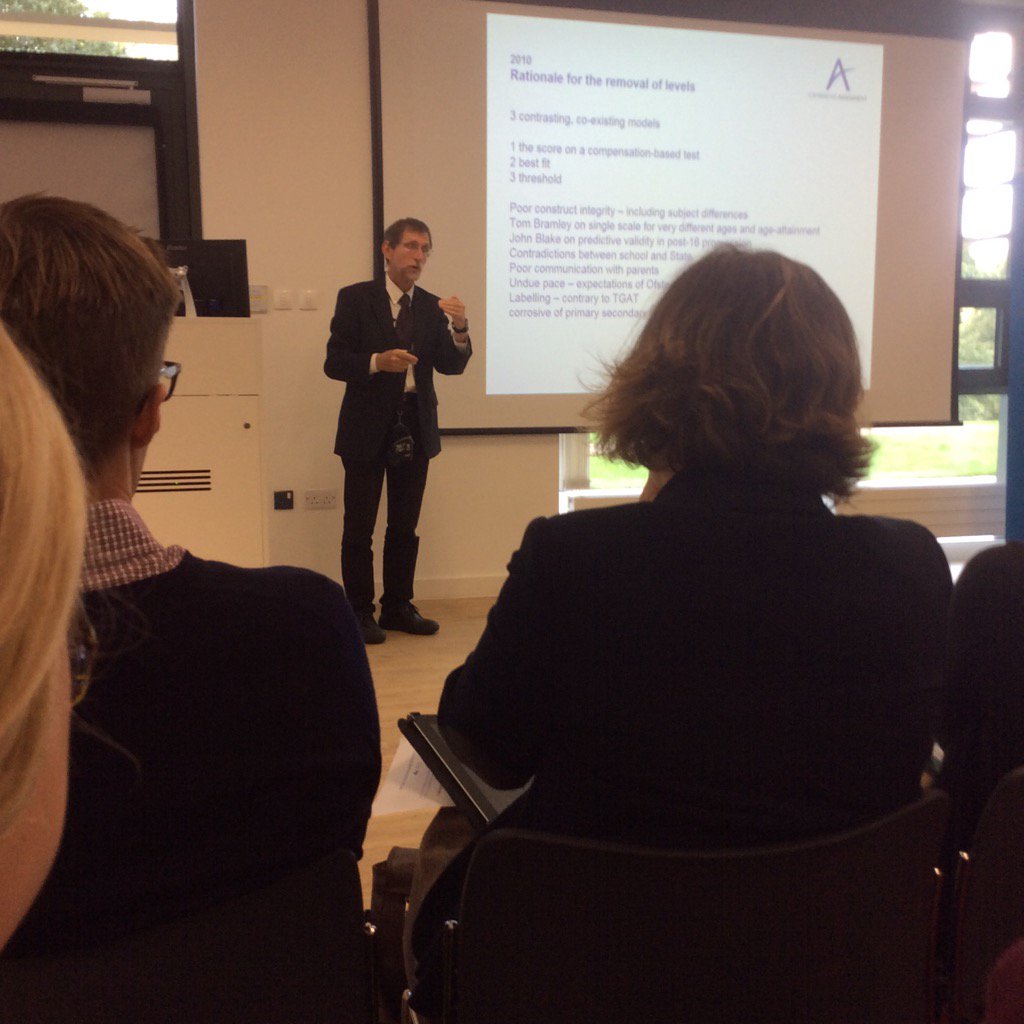 Tim Oates began the conference reminding us of the reasons why we had to leave levels, but also expressing his misgivings at the many schools who have simply changed the labels while repeating all the old mistakes with levels. He reminded us that all too often with levels, the labels, level 3 for example, meant different things to different people, and this discrepancy was simply 'no good for assessment.' The reason levels lacked this common understanding was because they were the result of a 'best fit' approach to assessment. We signed children off on parts of the curriculum when they had secured perhaps only 60 %, and this percentage might have been for different criteria for different pupils meaning that Jonny's level 3 would be different from Jane's level 3. Add to this, teachers having higher or lower thresholds for quality regarding specific outcomes and you had arbitrary, unreliable assessment that let children down.
With this in mind, we need to catch ourselves running into the same trap with any new system. Check up if you're 'best fitting' and shoe horning children into something they aren't, just for the sake of numbers. Make expectations crystal clear to teachers so they speak the same language too, or as one speaker said – ensure there is 'validation,' (I think I like that word better than moderation now). In fact, I predict that understanding quality so that the descriptions of learning mean the same thing to different people will be the glue that will make of all this succeed or fail.
Mr Oates also highlighted the importance of children being 'uncomfortable' in their learning. For too long teachers have pulled back when a child is uncomfortable, when that's the exact time to leave a child to think rather than us diving in and explaining. As Tim said, for Vygotsky, 'that's the place to go,' not shy away from. I vouch for this, as I remember when I first started teaching being marked down in observations because this child or that child was 'struggling'. When I look back, we were actually encouraged to ensure children didn't feel challenged at all, but instead wallowed around in the cosy embrace of their prior learning. It was also a custom to 'just teach' and get through content without making the slightest assumption regarding prior learning at all. How I cringe now…
Tim also made no apologies for uttering his judicious war cry, 'fewer things in greater depth.' Reminding us that the new curriculum has meant more than a shift in content, but rather a focus on constructs, ensuring that objectives are specific and cover the key things children need to know and build upon throughout their education. He maintained that practice is possible when there are fewer things in greater depth, because there is space to apply these building blocks of key concepts again and again rather than trying to skim over expansive content. In this way, there should be 'high production' with children saying and doing much, being given the chance to reflect on their learning often. If schools do this, then they have to rely less on data because there is a wealth of evidence for attainment and progress actually in classrooms. One of the terrible mistakes made with the levels era was that numbers often replaced authentic knowledge about learners and learning.
In addition, children should also be 'exposed' to simple concepts early in their education so that these act as the building blocks of key concepts, with rich questions and answers being an everyday feature of classrooms. Assessment then needs to be 'granular' and 'analytical' rather than a general amalgamation, which we know results in evaluations of learning that overlook deficits. Certainly, when Tim finished with the immortal words 'it's the stuff that counts,' he reminded us that we need to make sure we are clear about the 'stuff' all the way along.
Next was Mary Myatt, who continued the theme by declaring that 'numbers are only numbers,' as so many leaders still forget it seems. She maintained that any numbers should always be 'triangulated with children's work in books and with what they say'. And it's true that Ofsted now follow this line of enquiry during inspections it seems.
In addition, teachers need to recognise the 'difference between the work and the learning' so that 'completing a piece of work' is not confused with 'the work' itself – 'doing the work is the work!' Indeed there are, as Mary put it, too many 'quick sign offs' simply because a child has been seen to 'finish' the task. Cringe…how many times have we told a child to 'hurry up and finish,' like we're all there on a little running track. Is going fast or faster the same as learning deeply? No! For me, this is also partly fuelled by ineffective book monitoring by leaders who chastise teachers for 'unfinished work' without understand the learning that might have been going on around that unfinished piece. Moreover, Mary related this to what she called 'editing cheap praise' in classrooms so that children aren't praised for finishing or putting their heads down and getting on with it, but praised for their real efforts in learning instead. Certainly, when content coverage 'trumps learning it is rubbish,' resulting in 'loads of dots that are never joined up'.
Certainly, as teachers we need to 'dig deep' in how we teach and how we question children, avoiding 'superficial responses' to signal when to move on, and being 'operational instead of educational'. There were without doubt some pithy gems in Mary's talk that teachers and leaders need to heed. Mary finished with predicting that labelling and ability is still an issue that requires considerable redress – we should not be calling children 'lower ability,' but rather talk about children with 'low prior attainment.' I can only agree with her prediction that the discourse on ability might one day be looked upon in the same way as the discourse on sexism and racism, after all marginalisation, is marginalisation.
After this, Chris Chivers shared his years of wisdom as an educationalist, reminding us to pay attention to the transitions in school and between schools and also to see just how valuable our relationship with parents is and how we should work hard to include them in our decision making. I can say that I spent six months on secondment last year and noticed the difference having parents on board can make. I also know that poorer parents will have just the same care and aspirations for their children as more affluent families, but ten times the amount of barriers to fulfilling those intentions. This is not the same as not caring.
Then for the main part of the day we moved through presentations of various people's journeys through assessment. What was striking was the humility and honesty of everyone who spoke. What a relief to know everyone else has made mistakes trying to get things right for their children! Quite a few people admitted to starting systems that were just like levels again and having to abandon ship and start all over again. Nearly everyone admitted that there was still much more to do and more to tweak. There was consensus that numbers were needed, but also agreement that it was everything behind the numbers that counted. As Tim Oates said, 'it's the stuff that counts!'
One of the most inspirational talks was from Ruchi Sabharwal, about how she had tackled pupils' own entrenched ideas about themselves as learners using Solo Taxonomy. She explained how she'd used this to continue to lift the lid on learning. It certainly flagged up the care we must take to ensure any name or label is pinned to the task and not to the child. As educators we must be so mindful of the propensity for humans to use labels to form images of themselves and create stuck identities. This is why Carol Dweck's work is so important to study and understand too. Teachers might offer free differentiated choice in a mixed ability setting, but if children pick the same 'labels' each time, is that because they've attached themselves to a label or that they really are making informed learning choices?
Lastly, James Pembroke leapt onto stage attacking 'progress measures' with his witty and concise delivery. Yes, he was completely right, 'sometimes progress is simply consolidation' so how will that show up on the progress measures? I know that a teacher can make considerable progress on pupils' learning behaviour with little effect on actual 'data' until perhaps the next year when all that hard work has been synthesized and then they have a new teacher. How will that be measured? Maybe share the data increase between the teachers? See how silly it all is. That's why tracking should be based on conversations between professionals more than an exercise in corporate accountability.
James was also completely right to say that we might track and monitor progress, but should we be measuring it? After all, progress isn't always measurable! Certainly, the idea of a linear progression is, as he put it, 'a fallacy,' and I would agree. Interestingly, only 1 in 10 children follow what we all consider the typical trajectory anyway, so this concept of zooming from A to B applies mostly to no one! All it really does is 'encourage pace at the expense of depth' and as James reminded us too, 'in any healthy system numbers will go up as well as down'. For James then, 'progress is: catching up, filling gaps, deepening understanding and overcoming barriers' so if it is all these – then what is expected progress and could that ever be expressed as a score? See, it's silly! He finished by advising us all to 'do more with less' because 'the less we carry, the further we go.' Priceless!
Priceless all round.